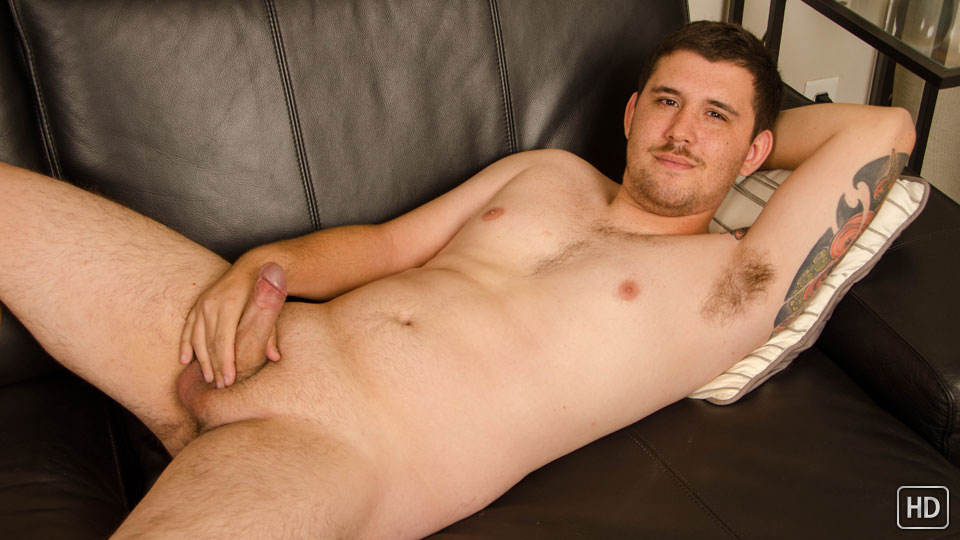 Elijah had been thinking about getting into porn for a handful of years. He'd been reassigned while enlisted in the Navy from the south out to San Diego. It wasn't until after he got out of the military that he finally worked up the nerve to take the plunge.
Now 25, he showed up for his on-camera debut a little nervous. Elijah had told one of his girl friends about getting naked on camera, but admitted that most of his other friends would probably be surprised that he was doing this. He's a bit of shy one normally.
Once the cameras were on, he had a bit of a bumpy start, but found his groove pretty quickly. His uncut cock seemed to like the attention, so I tried to get a good measurement on it once he was rock hard. And then the nerves kicked in again.
Being the helpful guy that I am, I offered to give him a little jump-start. Elijah didn't really know how to react, but didn't seem to mind giving this new experience a shot. After a few minutes, though, he decided to take back the job to finish himself off.
It didn't take too long before Elijah was moving in on the finish line. His long, deliberate strokes transitioned to rapid-fire jacking. At the end, he was gasping loudly as several powerful squirts of cum shot up his chest and stomach, leaving him soaked from the neck down.