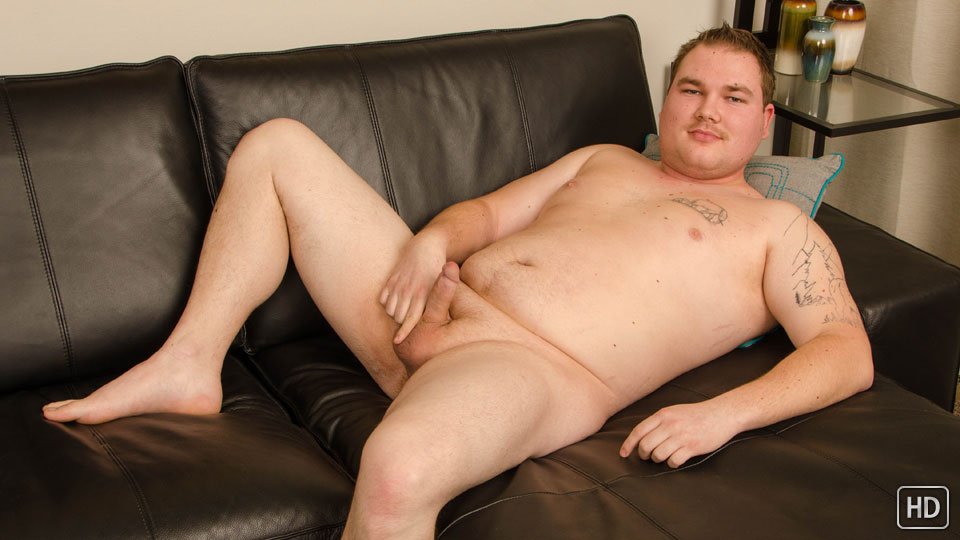 Clay lives in a midwestern state, but just happened to be visiting San Diego and decided on a whim to give porn a shot. He showed up at the studio with a perky and curious attitude, asking all sorts of questions about how things work. What I found funny was, in addition to telling a couple buddies, he had told his dad (who was visiting with Clay) about coming in for the shoot and planned to take his mom to lunch after and tell her about it, too. Open-minded family it sounded like.
He's a hefty 20 y/o straight guy who grew up playing football and wrestling. Football was his favorite. These days he works a pretty tough blue-collar job. Totally my type of guy's guy!
Clay, who normally jerks off twice a day, had been saving up for nearly a week before the shoot. He was extra horny, but when I pulled out the measuring tape his dick went a little half-limp with intimidation of getting sized up (as sometimes happens). Nice guy that I am, I gave him a little jumpstart with my hand.
He got pretty hard that way, but it wasn't enough to really get him over the edge after giving it a few minutes of trying. Clay ended up taking over, jerking his cock hard and furiously before dumping a nice, thick load onto his belly and pubes.