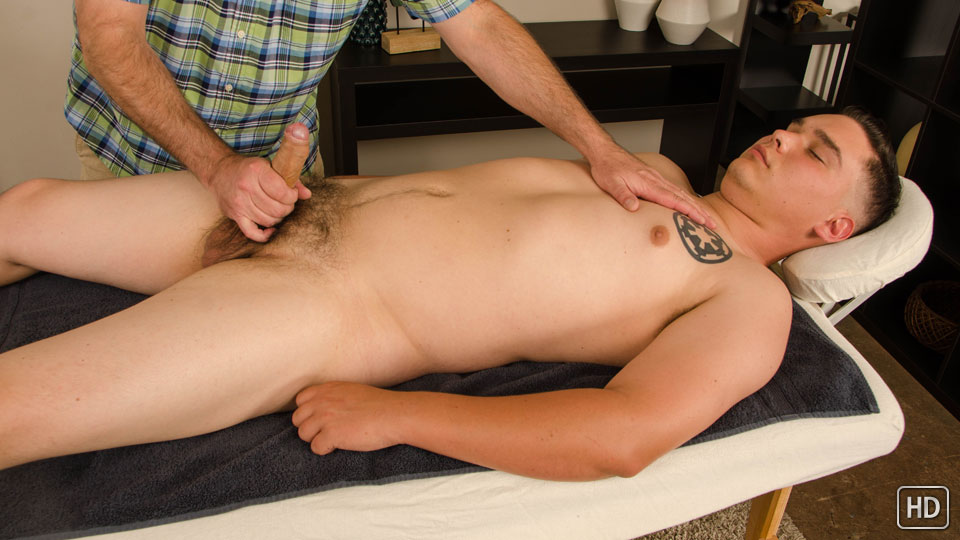 Well, look who's back! After Reid's solo shoot took an unexpected turn at the end, I hit him up about coming back for a happy-ending shoot. He seemed okay with it at first and then completely fell off the radar. I assumed that meant he had some regrets after letting things sink in. But, it turned out, he'd gotten in some trouble with his military job and ended up on a 2-month restriction.
Reid is no stranger to erotic rub-downs. Of course, his wife doesn't know this. When he was on deployment to some Asian countries, he decided to give it a try since they were so cheap. And he was hooked.
This time was obviously a little different: getting paid for it rather than paying, but getting one from a guy rather than a girl. (Although, even Reid admitted that he wasn't 100% sure the "girls" at the parlors overseas were exactly as they were advertised.)
Reid's thick torso was fun enough to rub down; stroking his thick uncut cock was even better. He was little quiet starting out, but as they say, hard dicks don't lie. Once I picked up the pace, Reid's breathing got noticeably deeper and, almost without warning, his whole body convulsed on the massage table as a thick load pulsed from his cock and ran down my hand onto his pubes.