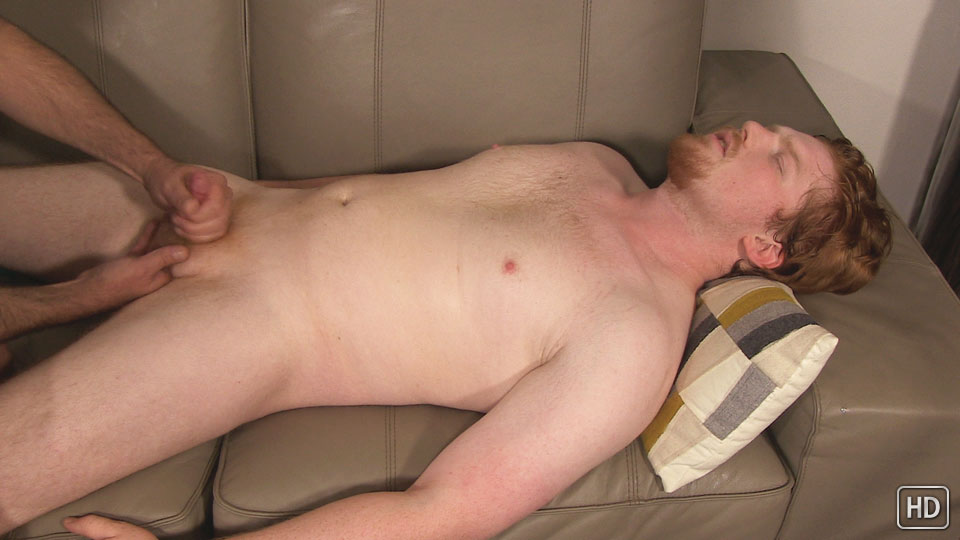 Brennan had been thinking about doing porn for the past couple years. So when a scout for the site hit him up about doing a shoot, recently, Brennan jumped at the chance.
He's a 23 y/o straight guy; attending college and spending his free time cooking and doing "computer stuff". Brennan said his friends would probably be very surprised to hear he was going to bare it all for the world to see.
When Brennan and I first spoke on the phone, I told him that there's a niche/fetish for redheads in porn. He replied by saying that he knew there was one for redhead girls, but didn't realize there was also a thing for gingery guys. I was glad to see that he had kept a decent amount of his fiery pubes, too!
Brennan said he was a little nervous when he first showed up, but he didn't seem to have much trouble getting hard for the photos. He'd saved up for a couple days and I think was little turned on by having the cameras pointed at him.
When the measuring tape came out to get the official cock size, Brennan seemed to get a little nervous, though, and his dick got a little wobbly. Nice guy that I am, I offered to give it a jump start (wink). Brennan closed his eyes and went to his happy place. But within a minute, he looked up and said he was getting close and seconds later launched a healthy load of cum onto the couch and coating his belly.