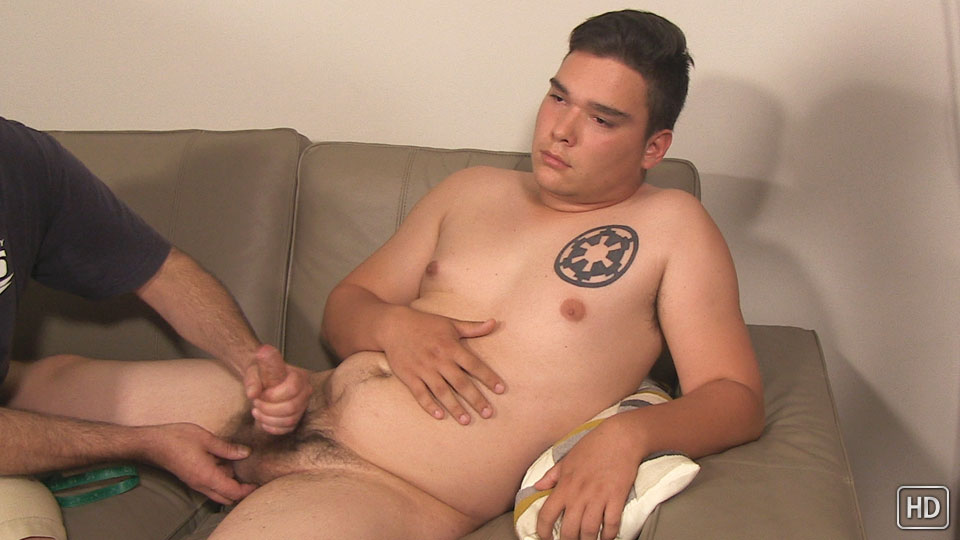 About a year ago, Reid got hit up about doing porn. Life kind of got in the way, but eventually, now 21 y/o, he got back in touch to see about setting up a shoot. Aside from some concerns about being in the military and the possibility of getting in trouble for taking his clothes off for the world to see, his main worry was that his wife would find out. I promised him that you guys wouldn't tell her, so... shhhh!! (wink)
Standing 6' 3" and a hefty build, it's probably not a surprise to hear that he played some football growing up. That, and basketball. In both sports, he was always in the position to be that big guy blocking the other players.
I was glad to see that Reid didn't do any "man-scaping" -- full bush! And even soft his uncut cock looked thick, which, of course, was plenty thick once he got to stroking. It was barely a few seconds before he was rock hard and showing off his meaty cock.
Reid said that when he'd last measured his dick, it was about 7 inches. Out came the measuring tape to confirm and he was pretty much spot on. And a girthy 5 1/2" around! A few extra strokes at first made Reid lose his boner. And then quickly bounce back. He didn't quite seem to know what to think of having a guy grab his dick for the first time.
When I asked if it felt good, Reid with a simple, "Yeah."
As that seemed to be the go-ahead to finish him off, I ramped up the pace of jerking his cock, rubbing Reid's balls while he focused on the porn playing in the background. Within a minute, the look on his face told everything and in one final twitch of his body, Reid spewed cum onto his pubes with one wild shot that flew over his leg, onto the couch.