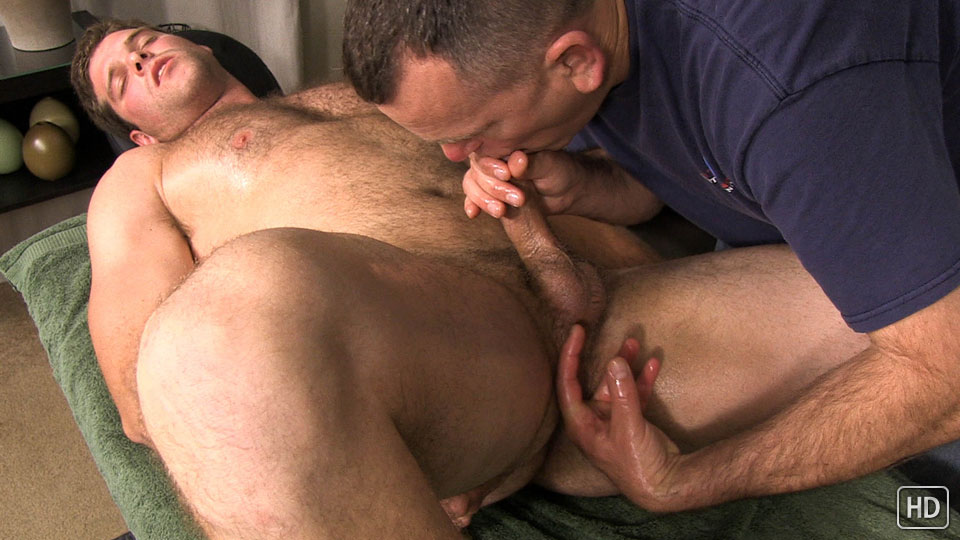 Since his j/o video came out a handful of weeks ago, Jake has acquired a few fans on the site. Ones who really wanted to see this cuddly cub back for some more.
It took some convincing, to be sure. If Jake was nervous about his girlfriend finding out about his porn dabbling, you can bet he was going to be uncertain about taking things up a step and jumping on the massage table. Or so I thought. Jake was fidgety, but as I learned it might have been for other reasons.
This wasn't Jake's first happy-ending massage. His first one came as a surprise to him when he was just 17.
"I went in for a regular massage," he laughed, "and the girl started playing with my dick." It didn't stop him from going back for a 2nd or 3rd time, though.
Things started out normally when Jake lay on the table. Maybe even a little tamed down as I moved from his back and started massaging his ass; after all, I didn't want to send him running out the door too soon. But when Jake's rock hard dick poked through from between his legs it was becoming clear that he was enjoying the ride so far.
Front side: rubbed down Jake's chest, hands migrated toward his hard dick (it was hard to miss, standing at full attention.) And this is where things took a sharp turn into unexpected territory.
All of a sudden, Jake reached down and started spreading his ass cheeks. I mean, how could I say no to an invitation like that? I lubed up a finger, then two, and started finger fucking him. Jake moaned under his breath, "Oh, fuck. That feels so good."
Before long, Jake was gasping and saying that he's about to bust. And, wow, did he ever: all over his leg and onto the table.
Coming in for a close up of the cum afterward, I joked that I didn't know he was into ass play.
"Neither did I!" Jake replied with a sheepish grin.