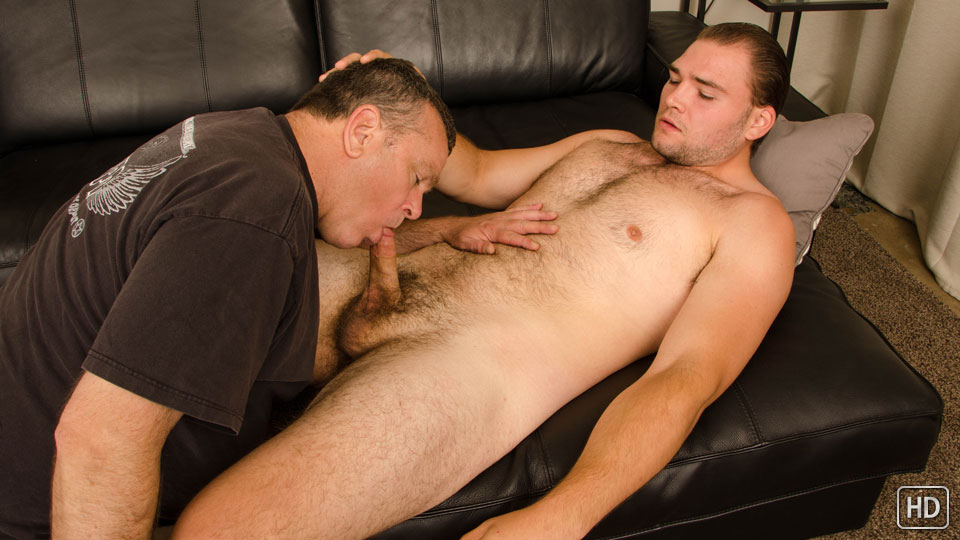 Look who's back for another BJ! Apparently, the first time around was good enough to come back for round two. William sent a brief, but telling text message: "Hey, when can we do it again?"
You know I was on board. And William was ready to go as soon as he'd walked through the door. No porn playing in the background. No glossed-over eyes staring off into space. I think this hunky straight guy had finally discovered the feeling of a GOOD blowjob, compared to the girls he'd hooked up with.
He'd even worn some hot, tight undies that showed his bulge through them after his shorts came off. I started teasing his cock and sucking him with them on before peeling them off to reveal his fully naked body.
When William stood up, he took control. He grabbed the back of my head and shoved his cock right down my throat with a look of amazement on his face. It's pretty thick and, I'll admit, was quite a challenge to choke down. (Not that I'm complaining.)
Now that William's cock primed and ready, it was my turn to take control and get busy licking his ass. When I put him back down on the couch and pushed his legs back, there was no doubt that he was enjoying it. Just check out his facial expressions.
Get yourself ready for the big finish. And I mean BIG. If you watched any of William's other vids, you'll know he can go back-to-back with multiple cumshots. This time it was six! The first one landed right on his mouth, and then went on to coat his whole body (and the couch and my face) with load after load after load of creamy cum.