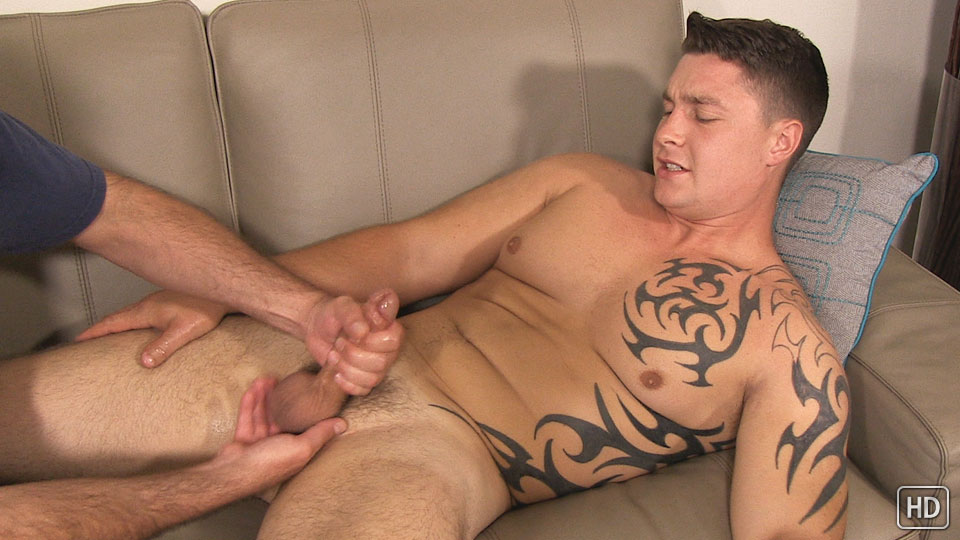 Jayson and I met a few weeks back. He had gotten hit up about doing porn and was all for it. His pubes were basically non-existent so we held off to let them grow in, but in the mean time he'd told a couple other buddies about things and referred them over for some shoots; he's a budding entrepreneur in the porn biz.
Jayson is 25 y/o and a fairly thick guy. Not just in his torso, but also in the dick department. One of the first things I noticed when his jeans came off was his low-hanging balls, but even soft, he's got some bragging rights: a "show-er" and a grower it turned out.
He's one sexually charged guy, too. As we got to talking, something gave the impression Jayson might be a bit hetero-flexible. One of the stories he told was about when he and a guy from his wrestling team in high school jerked off together in the locker room after practice. It was a one-time thing, but a pretty hot story nonetheless.
He was curious to know the size of his cock. Not one to pass up the opportunity, I pulled out the ol' measuring tape.
"It's pretty hard." He held his dick out, "It's good time to measure it."
That seemed to be an open invitation to give him a grab. Official measurements done (7 1/2" by 5 1/2" for you score keepers), Jayson seemed to welcome the extra strokes I gave him, so out came the lube to finish the job.
It didn't take long before Jayson was ready to blow. Even though he'd hooked up with a girl the night before, the cumshot was amazing. He blasted a load that shot all the way up to his shoulder!