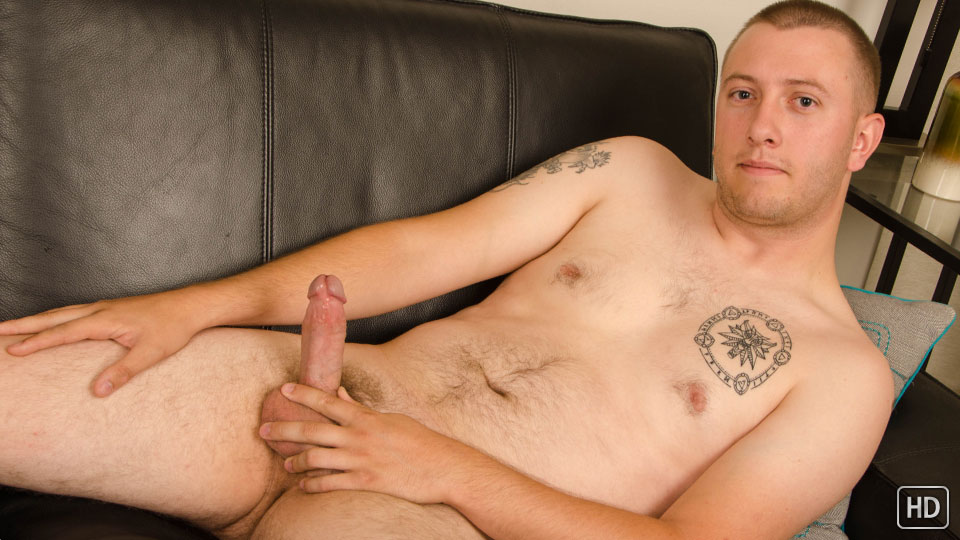 Chad came out to San Diego with the military from a smaller city in the Midwest. He's straight, 24 y/o, and recently divorced from his wife, so the timing couldn't have been better when he got hit up about doing porn.
Not that he hadn't thought about it before. Chad considers himself a bit of an exhibitionist. Sure, the money didn't hurt, but he was mostly turned on by the idea of people watching and getting off to him. His dick got hard faster than just about any guy I can think of. As soon as he pulled it out -- boing!
"I'm a 'grow-er' not a 'show-er'," he said while were shooting the photos. Of course, that prompted me to pull out the measuring tape to get the "official measurement." I'd probably agree with him since his cock came in just shy of 7 1/2 inches.
Chad normally jacks off a few times a day. His record was up there at 9-10 times (I think he must have lost count). Saving up for a couple days was a challenge, but it paid off. Once he got the go-ahead, it took less than a minute before the cum was flying every which direction. It was like a Fourth of July fireworks show that left him spattered in jizz.