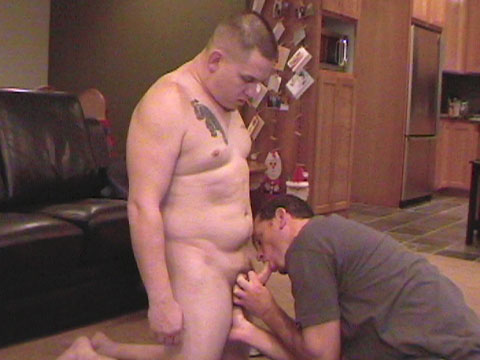 Remember Jon? He was having a little stage fright with his on-camera debut, but wanted to give it another shot.
The next day he came over again when things were a little less nerve-racking for him. And he mentioned being a little extra horny. Hmmm... so was I!
Since we'd gone through all the intro chit-chat the day before, Jon came in, stripped down and got right to work on getting hard. It didn't take long until the inevitable happened and his cock had worked its way into my mouth.
As horny as he was, Jon still wasn't able to get off from the blowjob, although he seemed to enjoy the time while trying. The newness of having a guy sucking him, as he explained, without a girl there (and with a couple cameras pointed at him) might have gotten the better of him.
By the end, Jon had kicked back on the couch and worked himself up to sweaty climax with cum dripping down his hand and cock.