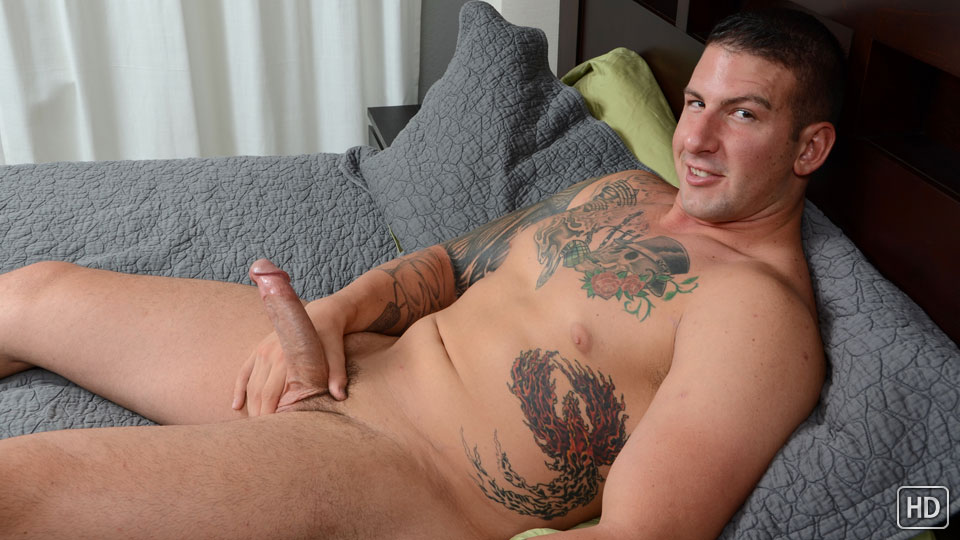 Dino is one big dude. And I don't mean just the fact that he's 6' 5" tall and built like an offensive lineman. He's packing something big below the belt, as well.
I think it was Dino's girlfriend who planted the seed and got him to make the leap into porn. They have an open relationship and, I'm just speculating here, this was going to add a new dimension to their explorations and boundaries.
Dino was all about it, whatever the reason.
After just recently being released from the Marines, the idea of making some cash for getting naked seemed like an easy way to supplement his G.I. bill while starting college.
Normally, I'm not too shy about pulling out the ol' measuring tape to get the 'official' cock stats. In Dino's case, though, I figured a good guess-timate would save me from possibly getting punched in the face by a former Marine football player. Let's just say it's easily 8 inches long and a girthy 6 inches around.
And a pretty thick cumshot, too. Dino splattered his jizz all over the pillow in an ending that was both super intense and left him dripping in sweat.