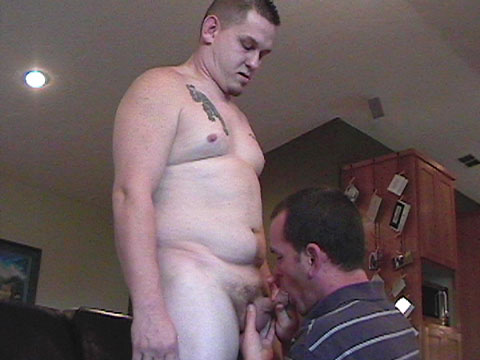 This is one that comes deep from the vaults. I was on a road trip to northern California several years ago when I met Jon through a hook-up site. He was looking for a girl when I hit him up about doing porn. Being an open-minded guy, he figured a little extra cash would never hurt.
When he showed up and the cameras were on, Jon was having a little trouble getting going. I left him alone and still he couldn't get himself hard, this being his first time being "the main focus" (as he put it) on camera.
As we were talking, he mentioned that he had done some sexual exploration with guys before, but always in a 3-way situation. Seeing that he was in need of of a jump start, and being the nice guy that I am (wink), I offered to give him a a blowjob for a few minutes.
That helped. But despite my efforts I couldn't get him to cum. Jon sat back down on the sofa and let me give it another try. In the end, he jerked himself off and out of nowhere pushed himself over the edge, unloading onto his pubes.
A little crestfallen for his porn debut, Jon's closing comment was that he'd like to come back for a second try. And I certainly wasn't going to complain about that!