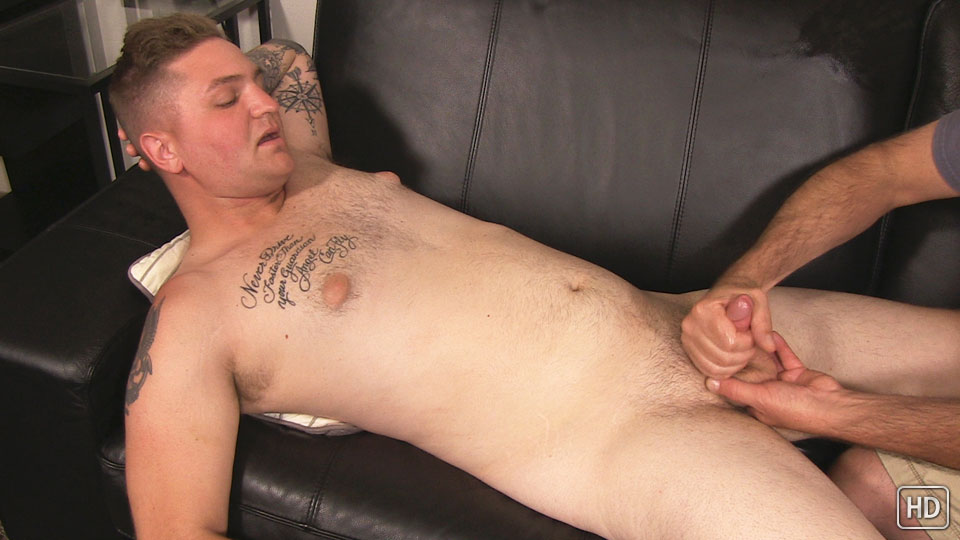 Mitchell and his military buddies decided one night that they were going to look for ways to make some extra money. When they stumbled across an ad for doing porn, they were all going to sign right up. Or at least they said they would. Mitchell was the only one to go through with it (at the moment, at least).
He's a 21 y/o str8 guy with a perky personality; ready to make a good first impression in his porn debut. And some great stories from back in the barracks. I lost track (as Mitchell seemed to also) how many times he and his buddies have walked in on each other jerking off and just carried on a conversation. I even joked that they could do a video together.
"Yeah, it wouldn't be that awkward at all," he admitted.
Mitchell definitely wasn't shy about showing off on camera for the first time. After all the stories I was curious to see how open-minded he was, so when the measuring tape came out I took my time sizing up his cock. Without flinching, he gave the go-ahead to help finish him off.
He wasn't sure how far he would shoot even though he'd been saving up for a couple days. It seemed to pay off. Mitchell ended up with some nice streams that flew halfway up his chest.