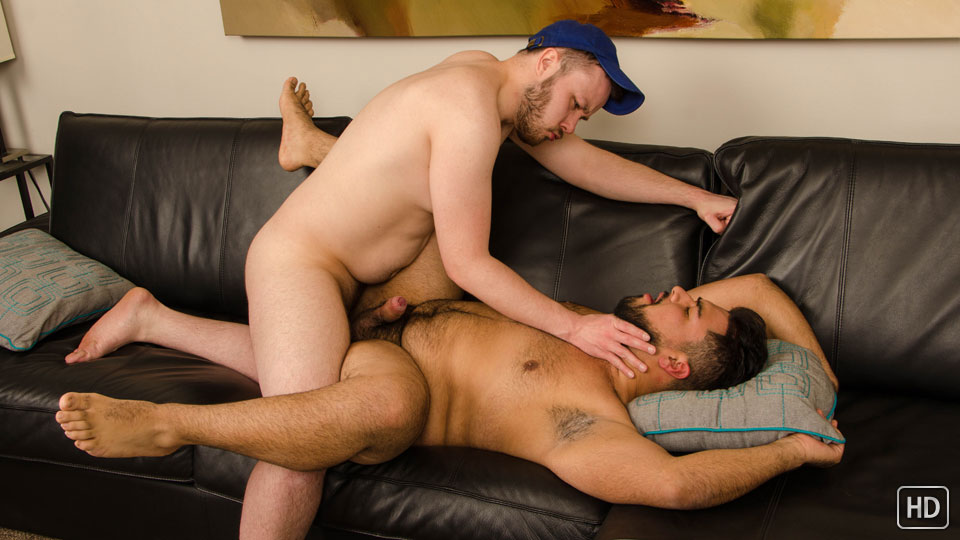 "He's hard already," Julio whispered to nobody in particular, grabbing Caleb's bulging jeans while I was getting the cameras rolling.
Caleb looked up from his crotch and reminded Julio, "It's all your fault."
In a twist of fate, the two of them had been checking out the site and emailed me separately asking about doing a scene with each other. The chemistry was brewing even before we'd set a date up for this shoot.
Once things got going, I just let the two of them go at it at their own pace. It turned out to be such a hot and passionate shoot that it ended up being a 2-part update.
In part one, there's all the foreplay; the guys make out, blow each other, and eat some ass before Julio couldn't take it any longer. He bent over the couch and Caleb slipped his hard cock inside. Julio responded with a loud moan of appreciation.
After a few minutes of getting fucked doggy-style, Julio rolled over onto his back and Caleb commenced the fucking after fingering Julio's hole.
Caleb, grabbing Julio by the neck, pounded Julio's ass until he was glistening in sweat and moaning loudly. It wasn't long before Julio unloaded a thick wad onto his belly.
Stay tuned for part 2 coming soon!