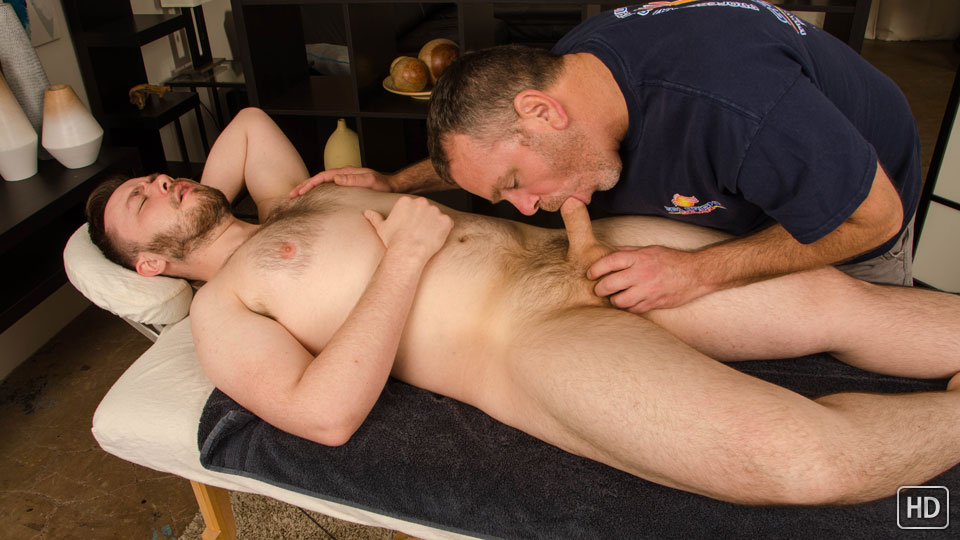 Caleb had such a good time doing his first porn shoot last time that it didn't take a whole lot of convincing to get him back for a massage scene. His only question when I brought it up was, "How soon can we do it?"
Although Caleb had gone to a parlor for a happy-ending massage, it didn't quite work out the way he'd hoped it would.
"It was just that, I dunno," he started to explain, "he was using his hand and that just doesn't do it for me."
I knew right away what that meant -- a challenge. And one I was happy to take on.
Laying face down on the massage table, Caleb was already starting to get hard as my hands made their way across his hairy bubble butt. When he flipped over onto his back, a few tweaks on Caleb's nipples got his cock standing at full mast.
Listen carefully and you'll hear Caleb say he was getting close even using my hand, but I wasn't going to pass up the chance to wrap my lips around his thick cock. And Caleb seemed to appreciate the extra attention.
It wasn't long after I started sucking him that the finish line was in sight. Caleb's moaning was all the clue I needed to pull off before he shot a thick load onto his fuzzy belly.