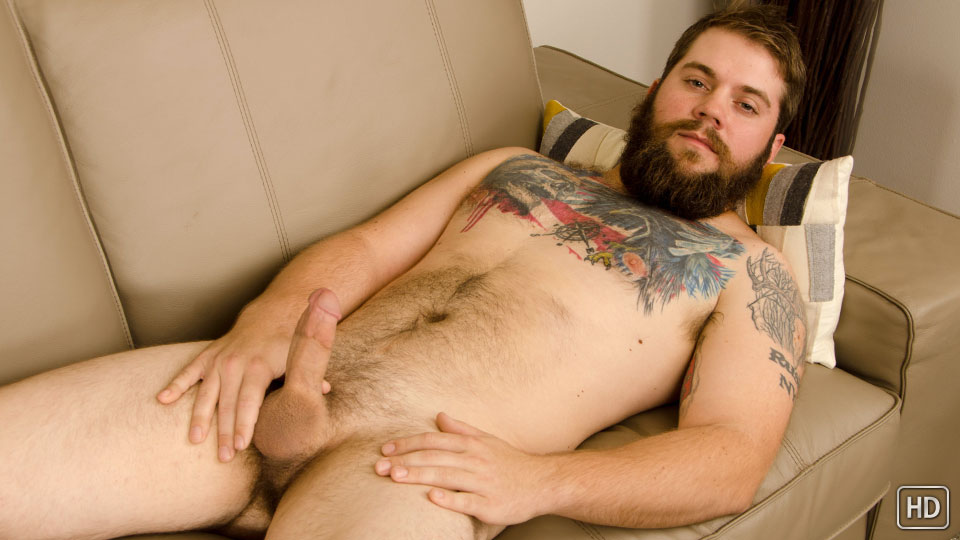 Jack is a 22 y/o pocket-sized cub who just recently got out of the military. In his couple months of civilian life, he's done as many of the Marines I've known do: grow out his facial hair, and pack on a few pounds. Both of which work just fine for me. And for you guys, too, I'm guessing. (wink)
We had met a few days earlier and when I hit him up about coming by to do a shoot he didn't seem too fazed by the prospect of making some cash by dropping his pants for the world to see.
"I mean, I do it at home all the time," he said with a shrug. "Why not make a little money while I'm at it."
He even told a few friends about doing a porn shoot. None of whom were surprised. Jack explained that he's known by them as, "that guy who is always naked anyway."
I'd describe him as, "that guy who gets hard at the drop of a hat," because once he set to work on his cock, it stayed that way. Sure, there was porn playing in the background, but Jack barely looked at it the whole time, more focused on putting on a sexy show for his porn debut.
Jack has a regular once or twice-a-day jerk off schedule. He'd saved up for a couple days which did him well. His ball sack got so tight as he built himself up to the finish line, dumping a thick load onto this furry belly.