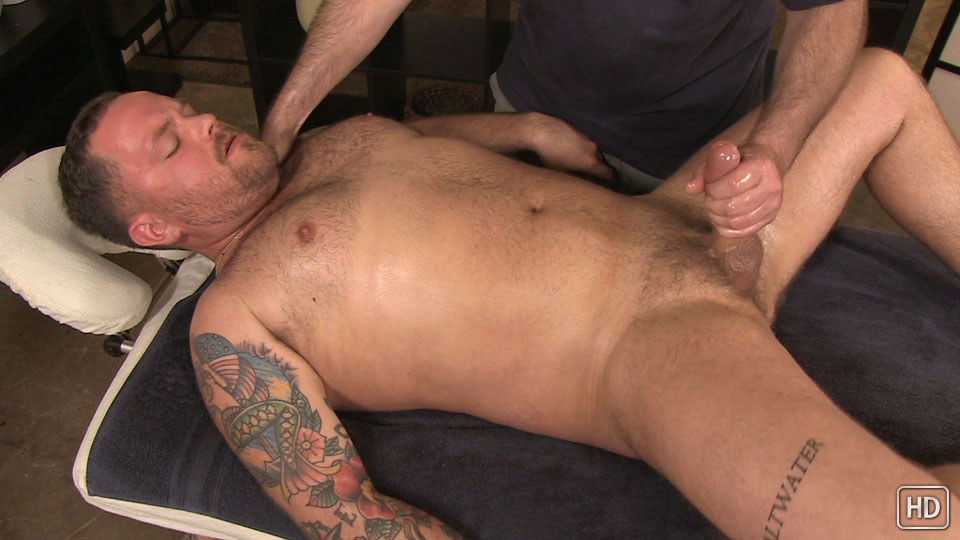 Cameron was so excited about his last shoot that he couldn't wait to do another one. He'd seen the massage table, of course, and said he'd be up for a happy-ending scene. Even though he'd never gotten one before, a few of his military buddies had and told him how much they'd liked it.
In general, Cameron's a pretty horny guy. Put him in front of the cameras and it turns him on even more. I'd barely started rubbing down his back when I could see his dick getting hard from between his legs. As I made my way toward his ass, Cameron arched his back in an unspoken invitation to rub his hole while stroking him from underneath.
When he flipped over, Cameron was rock hard and had a devilish grin on his face. While my hands glided from his chest, slowly teasing his cock with a tug or two, Cameron reached up and started pinching on his nipples, causing him to quietly gasp and writhe slightly on the massage table.
Things started heating up even more when I wrapped both hands around his dick: he responded by slowly thrusting his hips into them. Before long, one of Cameron's hands, alongside the table, found my crotch and began rubbing me back through my shorts. Feeling the intensity growing, I picked up the pace of stroking him off. Cameron reached up once last time to tweak his nipple, right before exploding cum halfway up his chest in a moaning orgasm that might have woken up the neighbors!