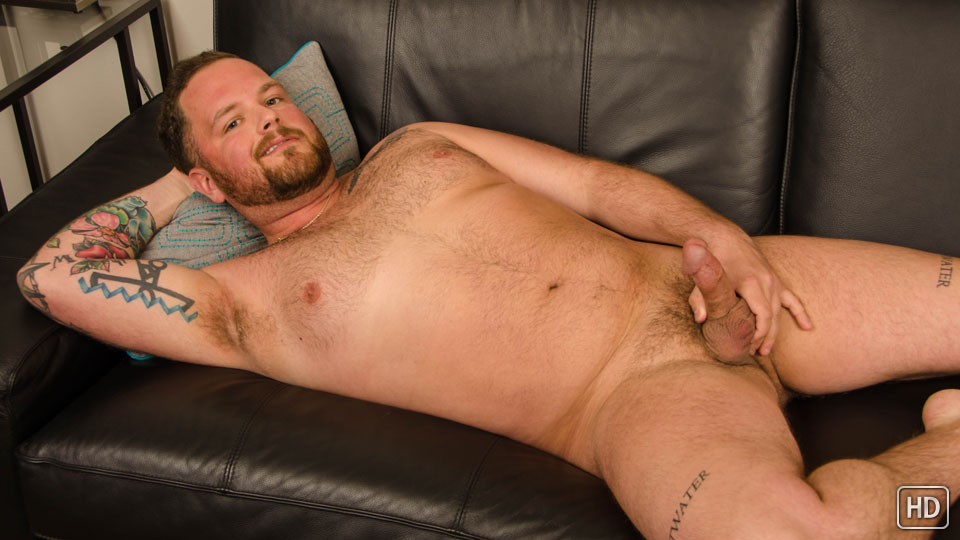 Cameron got in touch after seeing posts on the Chubs&Cubs Tumblr blog. Talking on the phone, he seemed eager to get in front of the cameras (again). He'd recently done some photo shoots, plus a solo video back when he was 18. When I asked him if he liked showing off, his response was quick and simply put: "Big time!" He once went on a nudist camping trip where he got fucked while a group of 20-or-so guys stood by to watch.
He grew up in a small southern town ("The Boonies" as he called it), was a baseball player, and an avid fisherman -- hence the fish and "freshwater/saltwater" tattoos. After serving in the military, he's now in college and thought he'd get back in touch with his exhibitionist side.
Cameron told a few of his neighbors about coming over for a shoot, but kept it under wraps for the most part. The people he did tell were all anxious to hear how it went because they were thinking about taking the plunge, too.
When I told Cameron to save up a big load for the shoot, he took it seriously and held off for four days. For a guy who normally jacks off 3-4 times a day, he admitted that it was tough. But it definitely paid off. Cameron shot clear over his shoulder, with a thick dab of cum landing on his cheek!