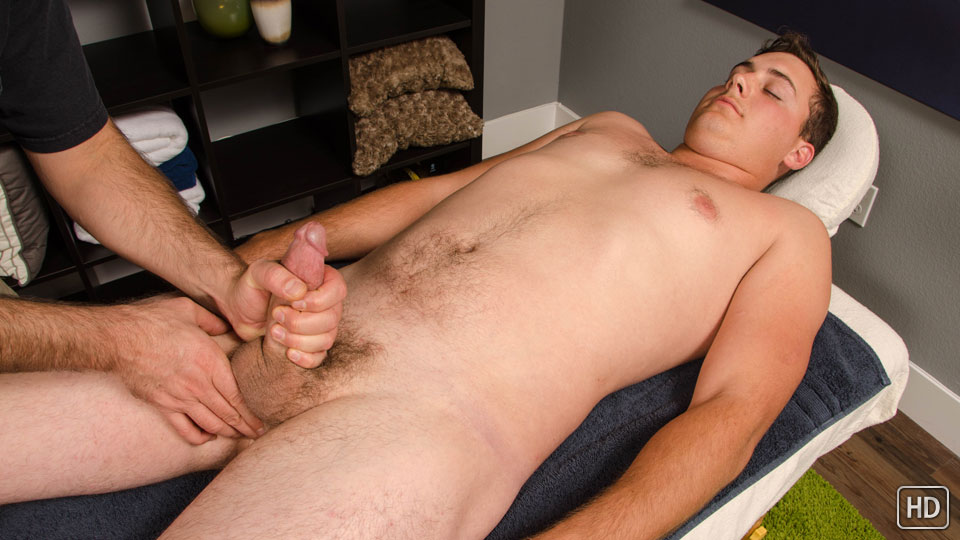 I'd just been thinking about Joel when he sent a text, asking when he could come back for another shoot. I wasn't sure if his last one had scared him off, but apparently the "extra help" at the end of his solo was just what he'd wanted. A happy-ending massage was just what he'd been hoping for.
Joel had gotten a happy-ending once before while on deployment overseas. That was from a woman and he had to pay for it. The twist, of course, was that this would be his first time getting one from a guy. But the money was going to end up in his pocket this time.
Even during the intro part of the video, Joel's semi-hardon was showing through the towel wrapped around his waist. Clearly, he was excited about the shoot.
Remembering that he liked having his ass played with, my hands moved from his back and down to his crack. I reached under him and pulled his cock from between his legs and it was already so hard that I thought it might break off. And it got even harder while I paid some extra attention to his hole.
When he flipped over onto his back, Joel's hard dick was standing at full attention. I was careful not to get him cumming too quickly; slowly teasing the shaft between rubbing down his chest and legs.
Once I picked up the pace and started stroking him with the grand finale in mind, it took about a minute before Joel was ready to bust. Having saved up for a couple days ahead of time, his load was nice and thick: gleaming white cum ran down my hand and onto his pubes.