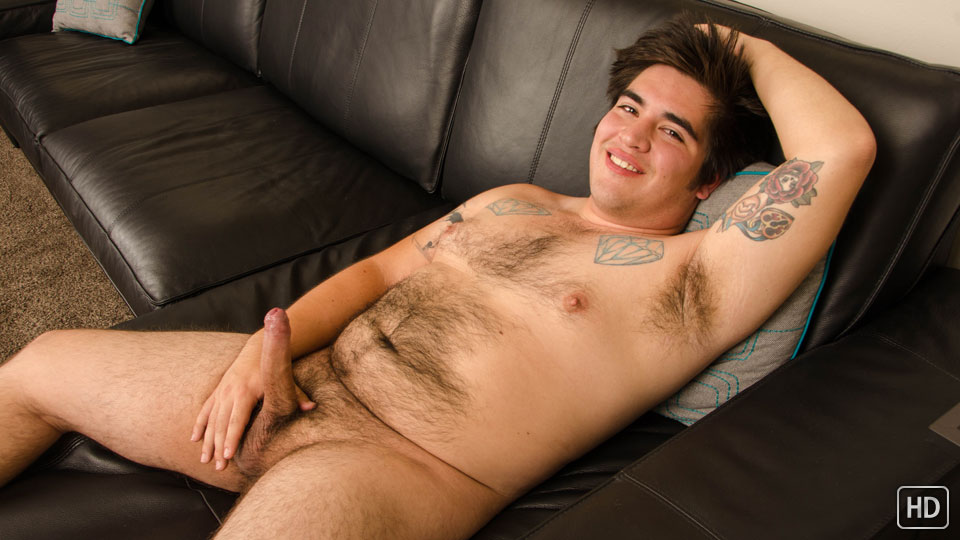 A friend who does some model scouting on the side found Steven online one day and hit him up about doing porn. Steven jumped at the chance, saying he'd always wanted to give it try but didn't know how to go about it. Little did he know that he'd get the chance right in his (proverbial) backyard!
Steven showed up with a big smile, ready to go, and a bit of info that he hadn't mentioned before: he's about to get married. I wasn't sure how to take that, and apparently it showed.
"Oh, he's totally into," Steven assured me, referring to his soon-to-be-husband. "He'll probably want to see the video."
Perhaps that was part of his inspiration for putting on a hot show during the shoot, but I think Steven was more than just a little turned on by being in front of the cameras. His uncut cock was leaking precum almost as soon as his shorts came off. And he didn't let it go to waste, rubbing onto the head of his dick, then licking it off his fingers.
Steven had said he gets turned on by shooting his load onto a guy's beard; something about the sticky cum on hair was hot to him. When he got the thumbs-up for the cumshot, it was his turn to cover his own furry tummy. It was one intense climax that left thick dabs of jizz all over.