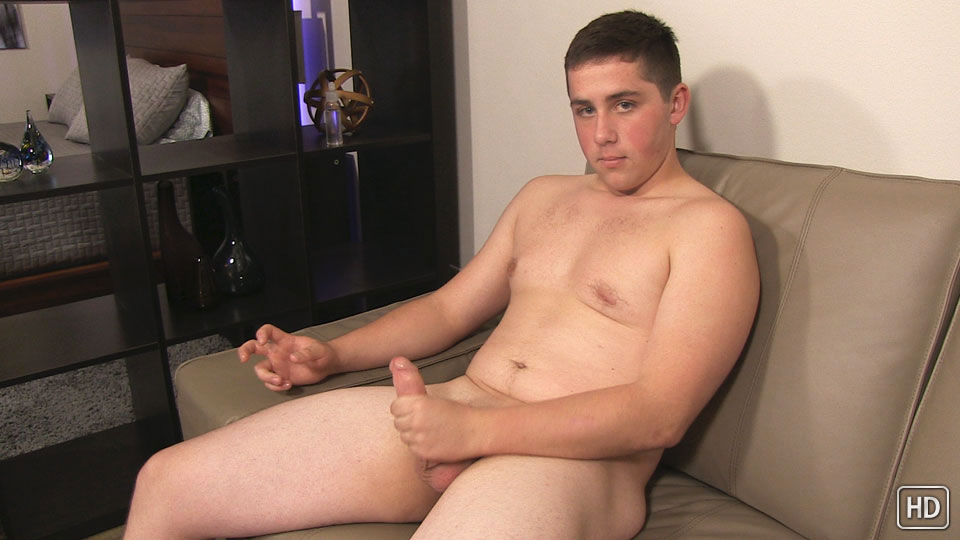 18 y/o Todd works at one of the stores in my neighborhood. I'd seen him a couple times and came very close to handing him a card to see if he'd be interested in doing porn. Turned out that a few weeks later, he ended up responding to an ad looking for models for the site.
The funny thing was that the pics he sent in were taken at such strange angles that I didn't recognize him. I asked if he'd be able to come by the studio to meet in person and get a couple better pics. As soon as he showed up at the door, it all suddenly clicked into place.
Todd's from a small town in the Midwest. A thick-bodied, 5' 7" guy, he played football, baseball, and wrestled in high school. He was curious about what kind of scenes would be available, adding that he was "mostly straight, but whatever happens, happens."
After a couple minutes of chatting, Todd stripped down and out popped a big ol' boner. He'd been sitting there, precumming in his boxers so much that he had to go wash the lint off the tip of his dick. Obviously, he was pretty excited.
During the short time we were talking, he'd asked a couple times if he could do a shoot that day, but there was another guy on his way over so time was limited. To send him home with blue-balls, though, would have been too cruel for words, so I set the cameras up and let him go at it.
Todd sat on the couch and kept looking into the camera as if that was what was turning him on the most. I even flipped the LCD screens around so he could check himself out while stroking his cock. After a few minutes we put some porn on for him to finish himself off. You'll love Todd's facial expressions and moans of, "Oh, wow. Oh, shit," right up until he busted a creamy load down the side of his hand.