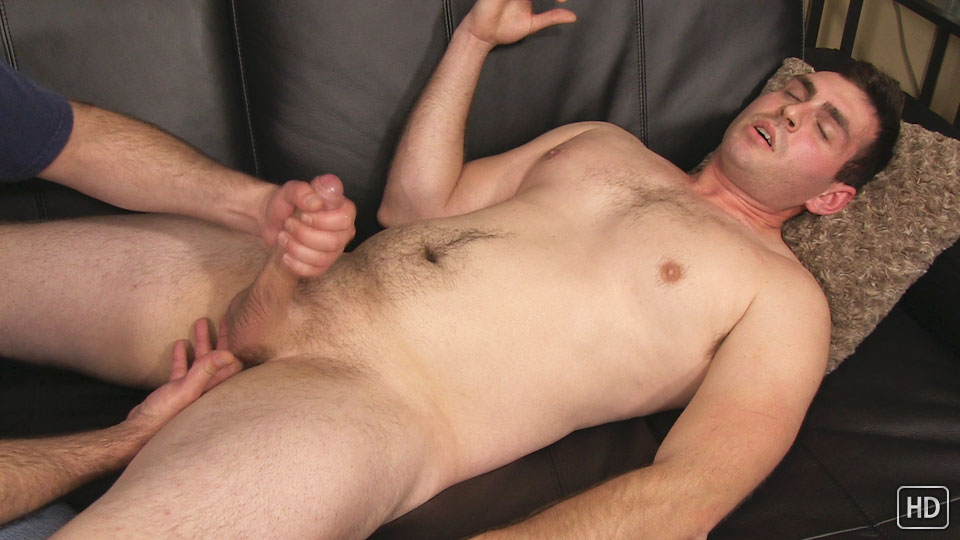 Tyler had been thinking about doing porn for a couple years. He'd even told some friends about it and when enough of them said he should go for it, he started looking around and came across one of my ads online.
He's 24 y/o and a fairly thick and tall guy at 6' 2" and 240 lbs. Tyler was an offensive lineman on his high school football team which fits his build.
Tyler was probably more nervous about getting naked on camera for the first time than he wanted to let on. He did a good job of covering it up, but when it was time to get undressed he took a big, deep breath as if to tell himself, "Here we go!"
Once his jeans were off, Tyler's thick uncut cock started getting hard almost immediately. Maybe he was nervous, but his dick certainly looked excited about being on camera.
Tyler is straight, but said he's been a little curious about guys lately. With that tidbit of info in the back of my head, I took a chance and reached out to grab his cock. A tiny smile crept across his face that made me think he'd wanted that to happen the whole time we'd been shooting.
I grabbed the lube when it looked like there was a green light to finish him off, and within a couple minutes Tyler was moaning and squirming as cum shot up to his shoulder. It must have felt good because he said that he never shoots that far.