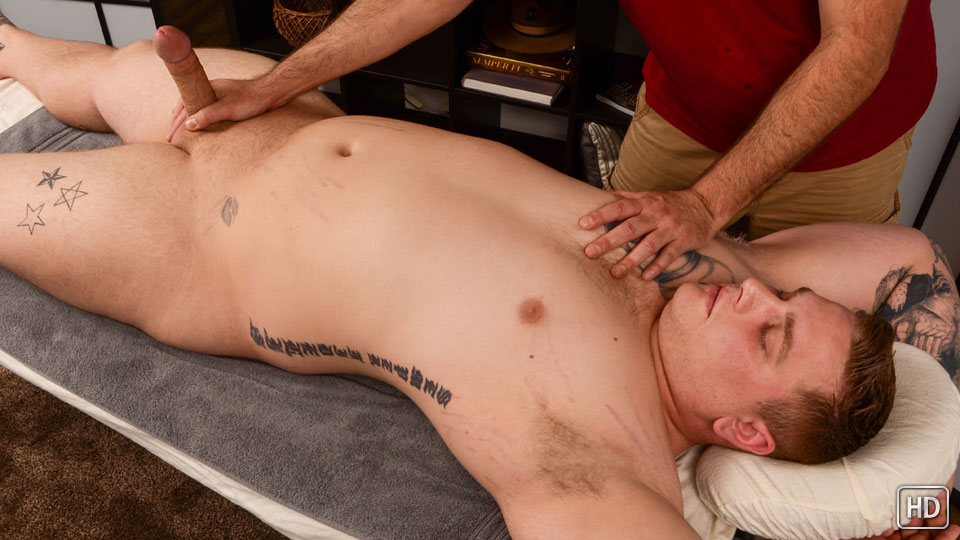 I'd been hoping to get Gary back in front of the cameras again. A few weeks after his solo shoot he got ahold of me to see if there was another scene he could do. Money had gotten a little tight and he decided to take up the offer I had made for a happy-ending massage.
Gary's only other time getting a happy-ending was one that he "stumbled into" when he went in for a regular massage and was surprised when the masseuse asked if he wanted anything more.
That time was with a girl. This time, of course, was not. That one cost him money; this one, he was getting paid for it! So, Gary shrugged and decided, "Why not?"
There was a lot of body to cover when I oiled him up: his thick legs and broad shoulders. Not to mention his beefy ass. When I reached between his legs, I found his cock was also getting larger by the second.
I took my time rubbing him down and teasing his hard dick, savoring every minute. When my attention turned to getting Gary over the finish line, he was deceptively quiet. I stroked him faster, rubbing his tightening ball sack when almost out of nowhere Gary started breathing heavier, then looked down as cum splattered his stomach and shot off the side of the massage table.