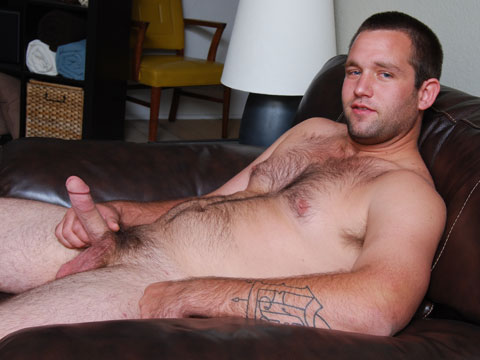 Jimmy's a 23 y/o straight guy who heard about the chance to make some cash yankin' it on camera. Being in a bit of a financial pinch, he decided that showing his cock to the world was an easy way to pay rent.
He's a big 6' 2" dude. The kind of guy you might expect as a bouncer at the local bar.
I have to admit that normally I'm not too worried about the guys who show up for the shoots. But in Jimmy's case, when I found out that he was fresh out of prison it was a little unsettling.
Especially when he busted too soon and I told him he needed to go for a 2nd cumshot if he wanted to get paid. He ended up coming through with that 2nd one, though, after some tense moments.
I have to admit this was probably one of the riskier shoots I've ever done. Who knew shooting porn could be so dangerous?