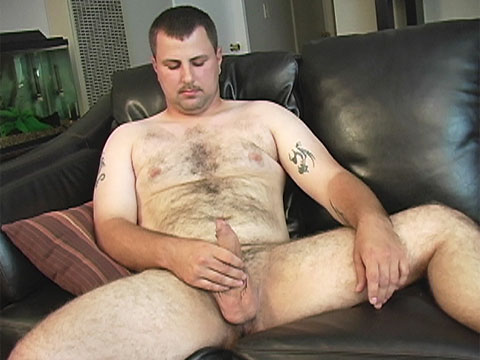 Andre is a 26 y/o furry bearcub whose ad I saw on a local pick-up site definitely caught my eye. I hit him up and gave him the "How'd ya like to do plan line." Clearly, the answer was, "Yes." Turned out that he'd just been thinking of ways to make some extra money.
Andre moved out to San Diego from Texas after enlisting with the Navy. When he showed up for his shoot, I found out that he's actually married. His wife didn't mind him showing his uncut cock to the world, though, since she was going to get part of the money. (I didn't ask him about running ads for a hook up, or if she minded him doing that, though!)
Andre's one of the only guys I've ever filmed who didn't want (or need) a porno playing in the background while jacking off. Guess he had a vivid imagination. Whatever it was he was thinking about, it worked 'cos he squirted a load all over his fuzzy stomach with a good deal of "enthusiasm."